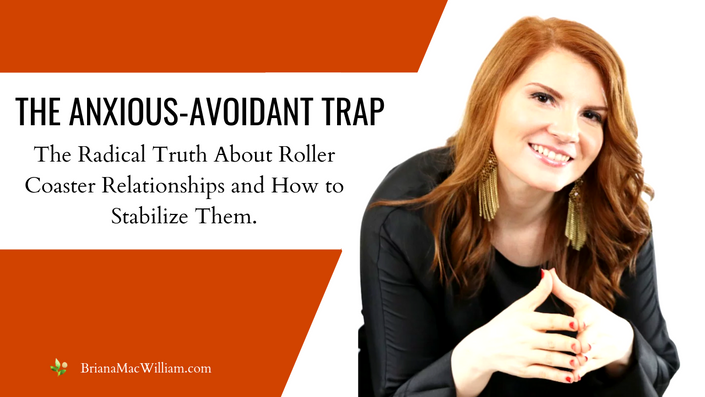 The Anxious-Avoidant Trap: The Radical Truth about Roller Coaster Relationships
5 Lessons to decode how your attachment style keeps you trapped in unhealthy love patterns, plus 5 live Q & A's to answer your most burning questions.
Are you sick of getting caught in roller coaster relationships, only to wind up hating how much you love your partner? And no matter what your rational mind tells you, your heart just can't seem to let them go? If so, its likely you are caught in the anxious-avoidant trap, and this course is perfect for you.
THE STRUGGLE IS REAL...
If you always seem to find yourself back in those same old patterns, with partners that…
-Don't appreciate you, and take your generosity for granted
-Show up with fireworks one day, and then disappear without explanation the next
-Treat you like an intimate partner, but don't give you any physical intimacy
-Or they only seem to be interested in sex, but exclude you from other aspects of their lives
-Avoid labeling the relationship and make you feel neurotic for needing it
-Behave in a needlessly secretive fashion
-Ignore you for weeks then text "miss you" at 2am
Or maybe your partner is...
-Intrusive and over-controlling
-Monitors every move you make
-Has high demands and never gives you any space
-Takes everything personally, and over analyzes everything you say
-Interprets most situations in the negative
-Presses for too much too fast
-Expects you to read their mind, and blows up when you don't
-Is hot one minute and cold the next
You may be caught in a roller coaster relationship fueled by insecure attachment styles, "the anxious-avoidant trap."
The anxious-avoidant trap is a situation in which we find ourselves caught in unhealthy, push-pull relationships.On the surface, most people tend to view the anxious-avoidant trap as a case of opposites attract, but truly, I find it to be a case of like-sees-like.
In this 5-part video series, we will explore the phenomenon of the anxious-avoidant trap, and give you a taste of how to stabilize it in fun, easy and creative ways, using The MacWilliam Method™.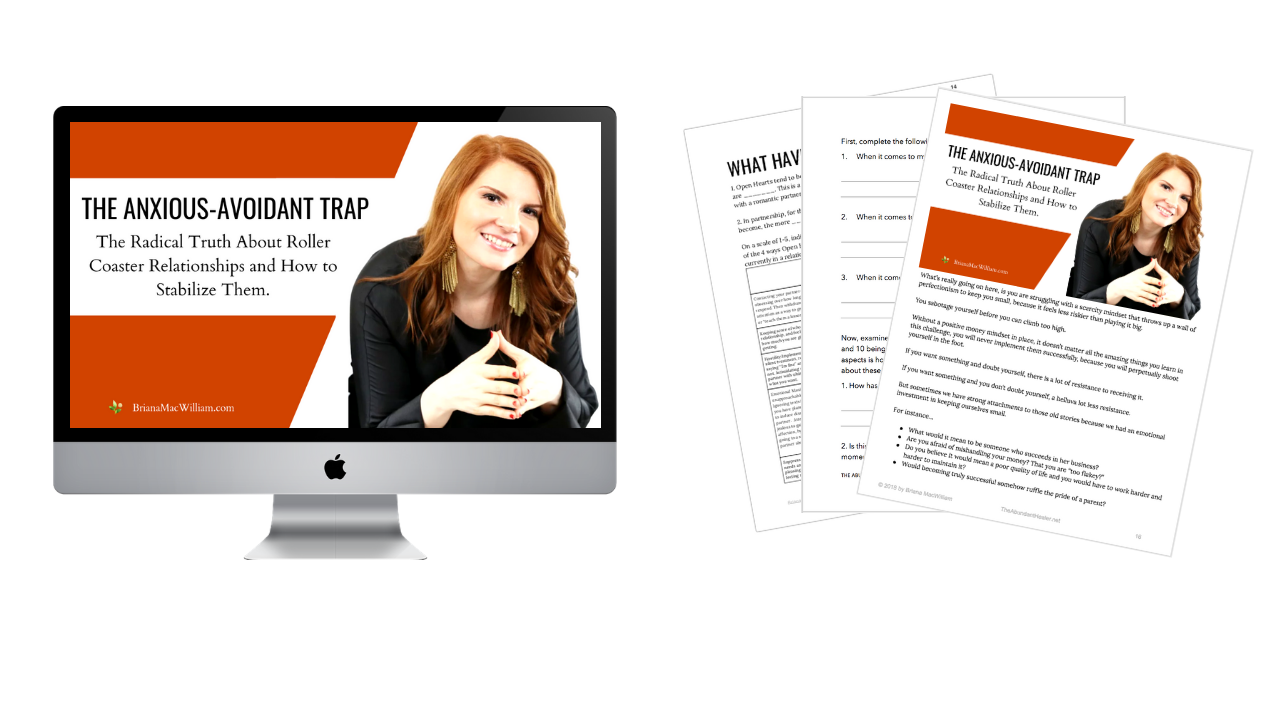 YOU WILL WALK AWAY WITH...

*5 Video lectures that will take you from lost and confused, to clear and confident on how to approach the roller coaster dynamic in your relationship.
*5 Live Q&A video recordings, answering your most burning questions about love.
*A bonus video tutorial and introduction to how The MacWilliam Method™ can help you stabilize your relationship.
*A 30+ Page Downloadable PDF, for those that like to read along.
I cannot tell you just how much I needed Briana in my life! Especially in the area of attachment and our individual spiritual journey! I have done a lot of research during my own quest for answers in life love and happiness! And I haven't found any other information like hers. She is super informative and does an amazing job of incorporating it all without being too clinical or too intimidating! She is also very personable and her delivery is that of (a very well educated) friend! In watching her videos I feel as if she knows me personally, and most importantly, for me, doesn't aren't making me feel judged. She is definitely living her purpose and I am so so thankful to have found her! I have learned so much from her work!
-Estey B.
LECTURE TOPICS INCLUDE...

*The Anxious-Avoidant Trap: A Case of Like-Sees-Like
*6 signs of the anxious avoidant trap
*4 Neurochemicals That Feed the Anxious-Avoidant Trap
*The Role of Fantasy and Avoidance in the Anxious-Avoidant Trap
*3 Ways Anxious And Avoidant Partners Push Each Other Away
I recently completed Briana's 5 day course on attachment, and I've learnt a ton from it... I'm currently at a place where I have a theoretical understanding of my avoidance, have done an in-depth analysis of my upbringing and where my avoidance has appeared in romantic, friend, family, and professional relationships, and have even begun to spot it in my current day-to-day. This awareness has allowed me to recognize that I am about to slip into avoidant behavior and disrupt the pattern. Which is something I'm very excited about and proud of. I highly recommend this course!
-Jordana
QUESTIONS ADDRESSED IN THIS COURSE...
*When my husband gets close, I push him away because I don't want to feel vulnerable, but I do love him, am I anxious or avoidant?

*Can you be anxious and avoidant?
*How can someone who is avoidant become more secure?
*My girlfriend says she loves me but still wants to break up and doesn't see the potential of the relationship, how do I let go?
*How do I stop . over-giving and suppressing my needs?
*How to ask for what I need using clear communication?

*Is it unloving to ask someone to reach out?
*I am working on myself but my partner still feels unworthy, no matter what I do, how can a couple have a healthier way of receiving love if they don't want to move on with someone else?
And many more!
I have been in a roller coaster marriage for almost ten years. After telling my husband to call a lawyer because I was DONE, in a last ditch effort my husband convinced me to watch these videos. It has our our personalities and relationship nailed down to the T. These videos have given me hope that we can break our cycle and keep our family together. Thank you for helping us!
-Laura T.
Hi, my name is Briana, and I love romance novels (yes, the kind with Fabio on the cover, located near the register at the grocery store) and campy science fiction shows (anyone else a die-hard Supernatural fan?). I also love being my own boss. Doing what I want to do, when I want to do it. And treating work like play.
My passion for working with attachment wounds and personal development stems from a rocky childhood. As a child of divorce, I bounced back and forth between my parents, across state lines.We lived below the poverty line for much of my young life. In my parents, I had an example of hard work but constant struggle.
I became a high achiever to compensate. It served me well professionally, until my struggles with relationships in adulthood tore down everything I had accomplished.
In adulthood, I experienced roller coaster relationships, and ultimately wound up a divorced, single mom. Then, after losing my job due to budget cuts, within a six-month time frame, one after another, both my parents and my brother were diagnosed with serious, chronic illnesses. And the new partner I had fallen madly in love with– the one all the raw parts of myself wanted so desperately to please and keep – couldn't prioritize me. When he left, my heart broke anew, and I miscarried, without realizing I had been pregnant. I felt my soul was split wide open.
As I came face-to-face with my greatest fears, I knew I had to find the grace on the other side, or collapse into a victimized identity. I decided to dive straight down into my demons, and wrote a book about attachment and grief. Ultimately, I found several other contributors willing to share their stories of grief, and we got it published!
Writing the book emboldened me to shed my shame, and talk about these things in a way I had never thought I would feel safe doing. This led to creating the curriculum for my online courses in personal development, and building an online community for support. Much to my delight, both caught fire, and I have never looked back!
"Briana MacWilliam is the kind of teacher who gets down to the bone where the blood is hot and running. She will never point to a thing when she can show it to you… She knows when to drop the important stuff and she drops it on you form her own experiential core. She does not take you anywhere she is not willing to travel herself. She has a combination of grace and grit that make her a fantastic teacher and a fabulous clinician."
-Alan Pottinger
Frequently Asked Questions
When does the course start and finish?
The course starts now and never ends! It is a completely self-paced online course - you decide when you start and when you finish.
How long do I have access to the course?
How does lifetime access sound? After enrolling, you have unlimited access to this course for as long as you like - across any and all devices you own.
What if I am unhappy with the course?
We would never want you to be unhappy! If you are unsatisfied with your purchase, contact us in the first 14 days and we will give you a full refund.
IT'S TIME TO STEP INTO YOUR LOVE LIFE AS A CREATOR OF IT, NOT JUST AS A SURVIVOR.