Begins August 16th, 2017
Applicable for Self Help and Mental Health professionals.
(7 Live and 7 Self-Study CE contact hours for LCATs in New York State)
Healing through the chakras is a 7-week comprehensive live online mastermind course created for healers, therapists and those who want to break out of old patterns and begin to make lasting positive changes in their lives.
This program is perfect for those who are sick and tired of feeling stuck in old patterns that blocks success, who want to feel happy and free from limiting beliefs that are keeping them small and feel empowered and re inspired to embrace the life they actually want!
At the inner core of each of us spin wheel-like energy centers or vortices. These energy centers are referred to as "chakras" and each one reflects an aspect of our inner and outer experience, as well as the degree of consciousness we have around those experiences.
When these chakras are in balance they are able to integrate mind, body, and spirit. They help us organize our life force energy, and provide a powerful tool for mental, emotional, spiritual, social, and physical growth.
When we are blocked in any one or more of our chakras, we may fall into habitual patterns that render us stuck, throwing us continually back into survival mode. Or, we may be unable to ground ourselves, lost in a flood of overwhelm and ideas, dissociated from the real world.
Unblocking a chakra requires addressing the problem on at least four levels:
Understanding the dynamics of that chakra.
Examining the personal history related to that chakras issues.
Applying creative interventions.
Balancing over and under active aspects of the chakra.
What makes this course different from other chakra courses out there, is that we combine our expertise and unique perspectives to address all four levels, in working with the chakras, releasing traumas and blockages stored in the body, mind and in the spirit!
We bridge together psychotherapy perspectives and practice along with energetic and Shamanic healing tools to understand and assess what your individual blockages are, give you tools to clear your blocks and then help you to activate and begin manifesting through each of your chakras! Plus we offer weekly calls to support you while having access to an entire chakra healing community so you feel guided, nurtured and supported all along the way.
Mind: You will receive 7 research articles and 12 audio lectures on the psycho-spiritual aspects of the chakras and how they may be impacted by developmental traumas.
Body: You will receive 21 guided meditations on clearing, affirming, activating and manifesting in each of the seven chakras. You will also receive a arts-based experiential for each chakra.
Spirit: You will receive a self-assessment for each chakra and a manifestation ritual to empower each of your chakras and make tangible changes in your everyday life.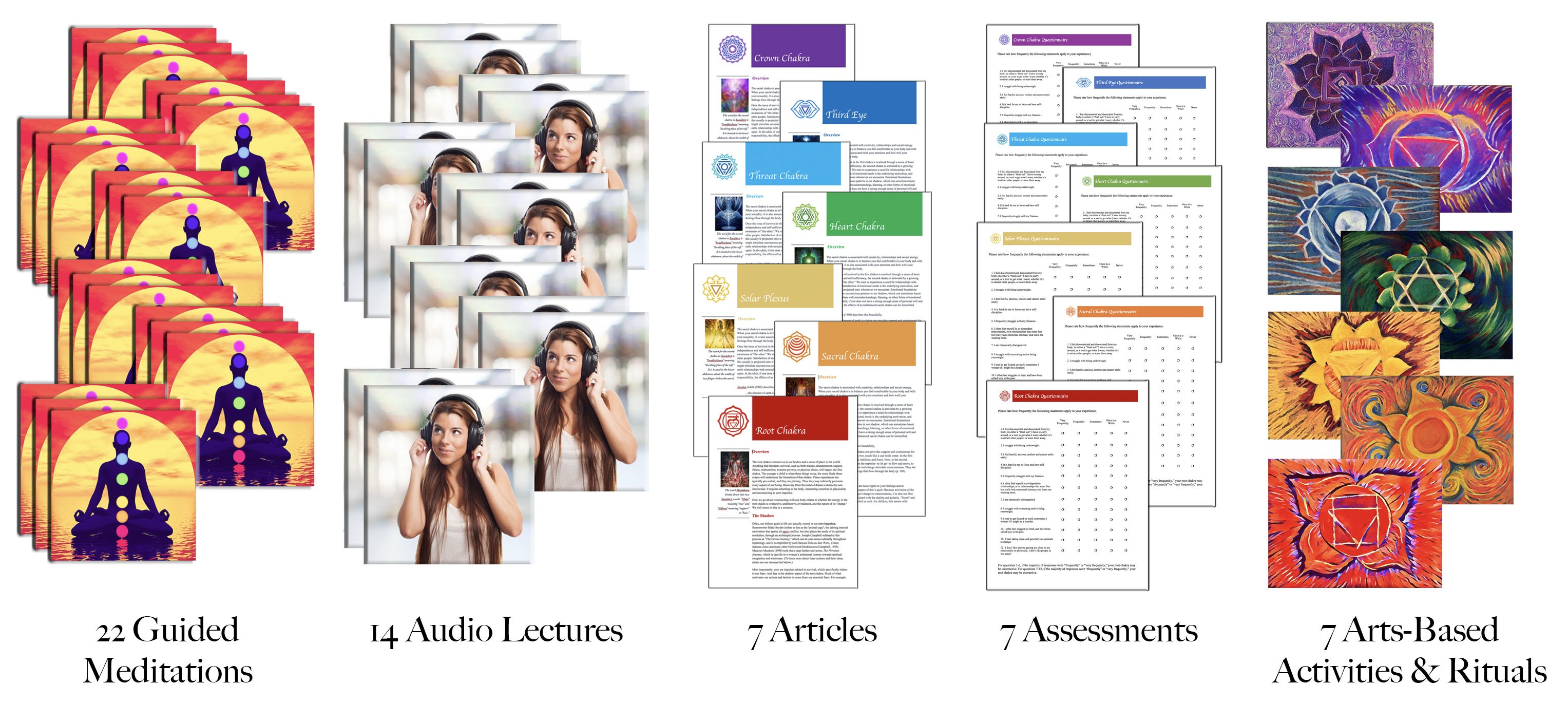 During this 7-week series, we will also co-host a LIVE webinar, once a week, to review the course material and answer any questions students may have.
These webinars will be EXCLUSIVELY for individuals who signed up for this course.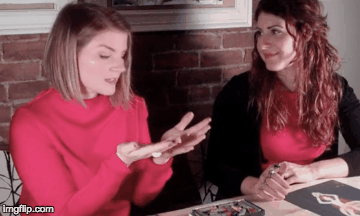 Dates for the LIVE Presentations
The Root Chakra
Wednesday, August 16th, 2017 at 7pm
The Sacral Chakra
Wednesday, August 23rd, 2017 at 7pm
The Solar Plexus
Wednesday, August 30th, 2017 at 7pm
The Heart Chakra
Wednesday, September 6th, 2017 at 7pm
The Throat Chakra
Wednesday, September 13th, 2017 at 7pm
The Third Eye
Wednesday, September 20th, 2017 at 7pm
The Crown Chakra
Wednesday, September 27th, 2017 at 7pm
By the end of this course you will:
Feel more powerful, clear and ready to take the next steps toward manifesting your desires
Tap into you own divine flow state because of how aligned and free with your power
Feel a new openness and freedom to attract what you want (more money, new and positive relationships, new job opportunities, more freedom)
Feel excited about your new healing tools and feel inspired to use them with your clients and in your daily life
Feel more free and in touch with your power
So if you're interested in releasing the old baggage from your chakras, getting your chakra power centers running smoothly and effectively and opening up your body, mind and spirit to receiving your desires then sign up for our online course now! Spaces are limited and time is running out. Make sure to reserve your spot today!

Who are we?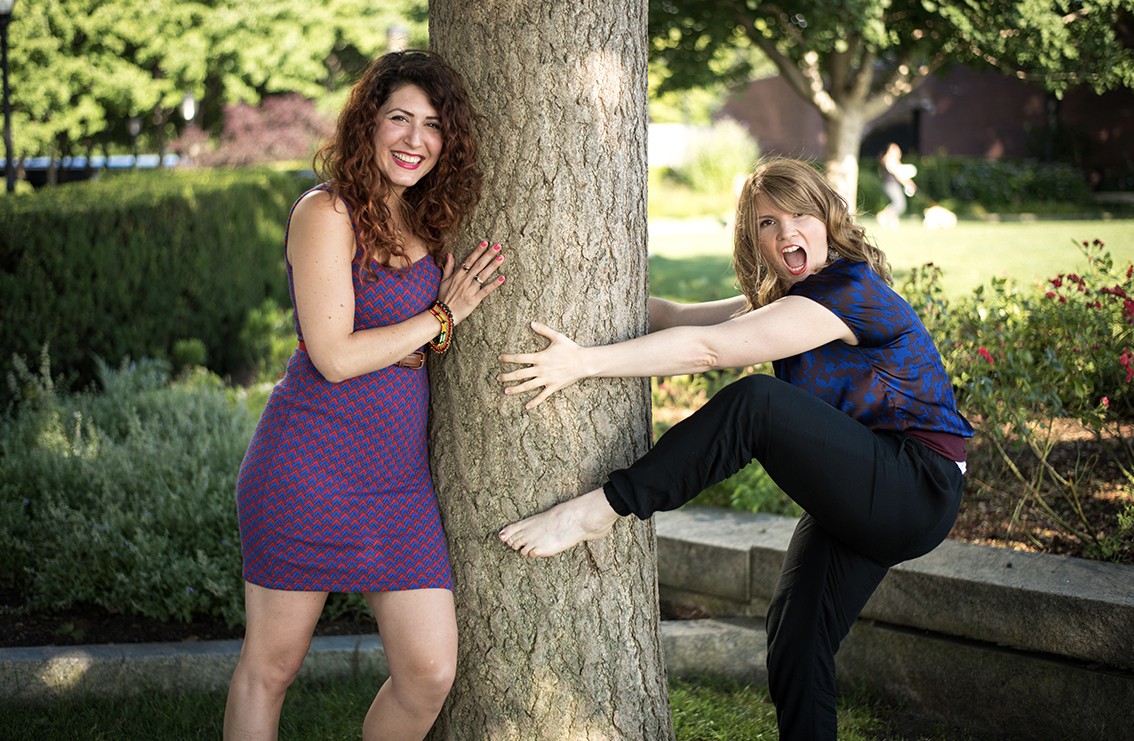 The lovely Shamanatrix, Kristen Boyer MPS, HC, has a Bachelors in Psychology, a Masters degree in Creative Arts Therapies, and a Certificate for Holistic Nutritional Counseling. She has studied with 10 different shamanic healers, some of which are still living in un-industrialized, indigenous communities. She also has worked with substance abusers with mental illness at varied psychiatric facilities.Yet, she feels the real training that qualifies her to empower those who have suffered from trauma are her unique set of challenging life experiences that have shaped who she is today.
As a licensed creative arts therapist, author, educator and Reiki practitioner, Briana MacWilliam MPS, ATR-BC, LCAT, has over a decade of clinical experience, working predominantly with women and children effected by trauma, addiction, HIV, and homelessness. She also has experience as a research and outcomes coordinator for the Amen Clinics, Inc.--a cutting edge brain research and diagnostic agency. She has edited and co-authored two books exploring such topics as complicated grief, attachment, and utilizing creative arts therapies when working with the LGBTQ community. Currently, she is adjunct faculty and the Director of Continuing Education for Pratt Institute's Creative Arts Therapies Department, and maintains a private practice. Writing, drawing, and painting have always been her passion, and she strongly believes in the spiritually curative powers of the creative process.
---
Licensed creative arts therapists (LCATs) seeking continuing education contact hours with New York state will be able to:
1. Identify the locations of at least 3 out of 7 chakras of the body.
2. Identify the names of at least 3 out of 7 chakras of the body.
3. Identify the "shadow" aspects of at least 3 out of 7 chakras of the body, and their related developmental traumas.
4. Identify psychological pathologies and symptomology relevant to energetic blockages in at least 3 out of 7 chakras of the body.
5. Identify examples of "top-down" versus "bottom-up" approaches to creative arts therapies interventions.
For LCATs in New York State looking for CE contact hours, this course offers:
7 hours of Self-Study CE contact hours (all modules must be completed to obtain these contact hours)

7 hours of LIVE Event CE contact hours (you must attend all 7 LIVE Webinars)
In order to obtain these contact hours you will need:
To complete all Lesson modules (there is a tracking system that monitors if you watched all lectures to their completion and opened all lesson modules, etc.).
To complete a course evaluation through Survey Monkey.
To complete a graded learning assessments for both the self-study modules, and the live modules (you must answer at least 75% of the questions correctly; this score will trigger the release of your certificate by email).
A reminder about self-study and continuing education:
For LCATs in New York State, a self-study course can only equal 1/3 of the required contact hours for your license renewal. So, if your license renews in three years, you will require 36 continuing education contact hours, thus a maximum of 12 of those hours can be self-study. The rest of your contact hours must be live events. This includes online webinars, which CreativeArtsTherapiesOnline.com offers. So keep an eye out for our newsletter!
Subscribe to our newsletter to receive reminders and updates!
---
Please click here for Webinar FAQs.
---
If you have any problems or technical difficulties, please contact Briana MacWilliam at [email protected]
CreativeArtsTherapiesOnline.com is recognized by the New York State Education Department's State Board for Mental Health Practitioners as an approved provider of continuing education for Licensed Creative Arts Therapists. (#CAT-0014.)