ARE YOU LOOKING FOR A SOUL-SHAKING, PASSIONATE PARTNERSHIP, BUT STRUGGLE TO ACHIEVE SELF-CONFIDENCE IN ROMANTIC RELATIONSHIPS?
This course offers 7 creative, fun, easy lessons over the course of 7 weeks, and takes you from feeling lost and confused about your romantic relationships, to stepping into your fullest and most sovereign self, without having to talk in circles around your feelings for hours (or even years) on end, with no tangible result.
WATCH KIM'S INSPIRATIONAL STORY OF TRANSFORMATION, AFTER TAKING THE 7 EASY, FUN LESSONS.
Kim struggled with depression and anxiety, as well as falling into a roller coaster relationships. Learning about the neural mechanisms of attachment, the role of complicated grief, and using body activating experientials, were Kim's favorite aspects of the program.
"This program has done for me in 7 weeks what years of self-help books and cognitive therapy couldn't do."
-Kim Nava
PEOPLE SEARCH FOR EXPLANATIONS OF THEIR PARTNERS BEHAVIOR AND HOW TO "MAKE THINGS WORK" BY GETTING THEIR PARTNER TO CHANGE FOR THE SAKE OF THE RELATIONSHIP, BUT HERE'S THE LIBERATING TRUTH: THE ONE COMMON DENOMINATOR IN ALL OF YOUR RELATIONSHIPS, IS YOU.
In my work as a creative arts therapist and energy healer, a combination of attachment theory and psycho-spiritualism fosters a dynamic and heart-centered approach to marrying the mind, body and spirit, so you can step more sovereignly into yourself, and become a creator of your love life, rather than just a survivor of it.
YOU WILL LEARN...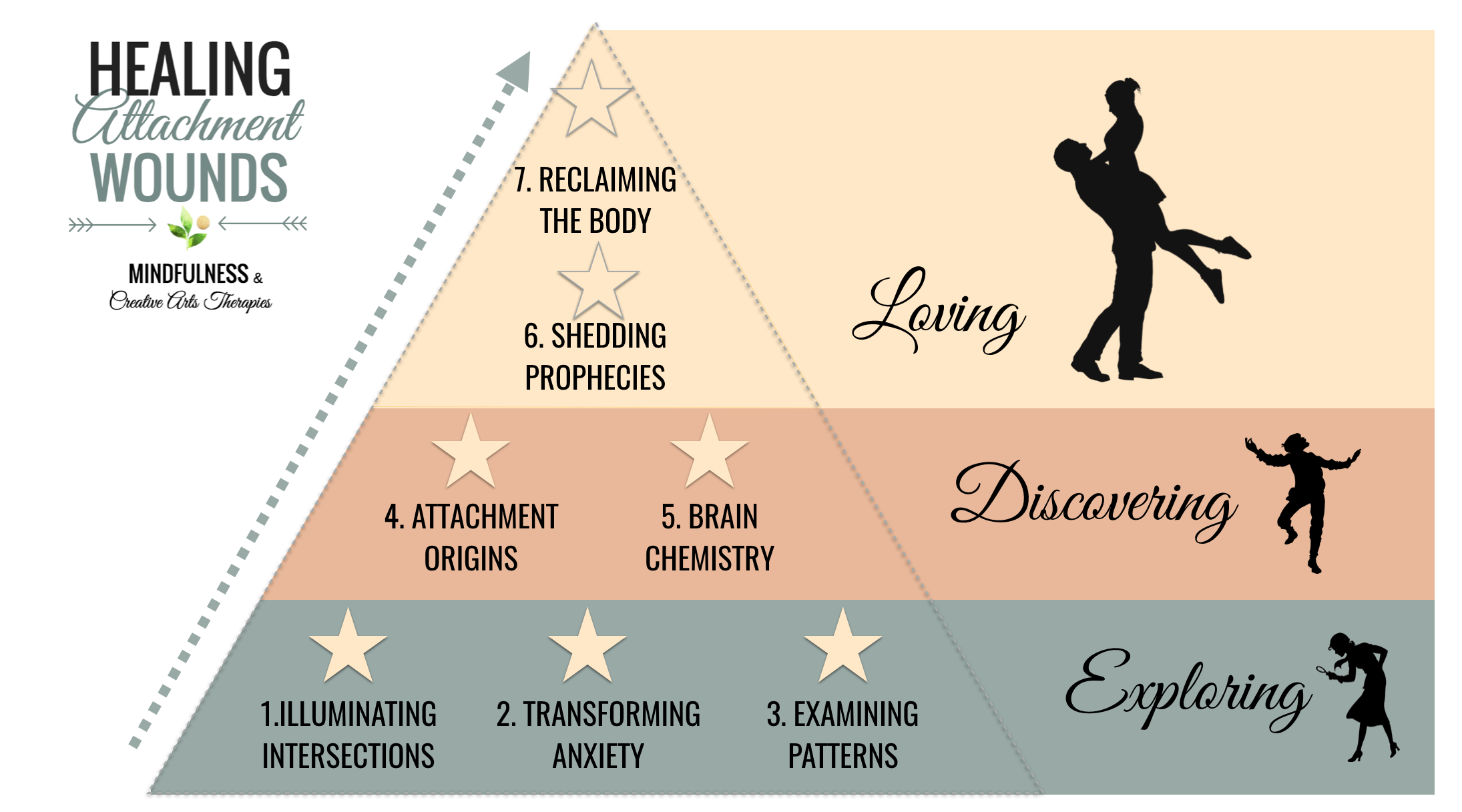 LESSON 1
The intersections between attachment, complicated grief and addiction. This first lesson takes you from feeling confused and oblivious to consciously aware of the negative impact complicated grief and short term escapes may have had on your attachment relationships.
LESSON 2
How to transform anxious feelings using guided visualizations. In this lesson you learn how to use natural imagery to organize your feelings in a non-threatening way, this takes you from feeling overwhelmed by and fearful of your feelings, to embracing them as important communicators of your intuition.
LESSON 3
In this lesson, you learn 6 signs of the anxious avoidant trap and the role of fantasy in "push-pull" relationships. This takes you from blindly falling into toxic situations, to being able to identify your patterns in love, and consciously extract meaning from them.
LESSON 4
4 Parenting styles and their potential impact on adult attachment relationships. This takes you from idealizing and romanticizing your childhood, to more compassionately understanding why and how you may have accumulated some emotional and energetic baggage that simply does not belong to you.
LESSON 5
The impact of 5 core brain systems and how they impact relationships. This takes you from feeling angry, resentful or baffled by your partner's behavior, to patient, accepting and aware of what makes them tick.
LESSON 6
How to identify and shed two types of limiting beliefs that keep you locked in a cycle of self-sabotage. This transforms your mindset from being locked in a cycle of self sabotage, to shedding those self fulfilling prophecies and opening yourself up to love.
LESSON 7
How to reclaim the sacred body and transform unprocessed rage through arts-based approaches and an inspirational story. This takes you from feeling fearful and disconnected from your body, to standing sovereign in your sacred temple, ready to give and receive love, beyond insecurity.
"Briana MacWilliam is the kind of teacher who gets down to the bone where the blood is hot and running. She will never point to a thing when she can show you it...Ms. MacWilliam is a challenger and comforter, a guide and a companion. She knows when to comfort and when to confront and most of all she has the timing of a professional actor. She knows when to drop the important stuff and she drops it on you form her own experiential core. She does not take you anywhere she is not willing to travel herself. She has a combination of grace and grit that make her a fantastic teacher and a fabulous clinician."

-Alan Pottinger
CHECK OUT STACY'S EXPERIENCE OF WALKING INTO THE LOVING PHASE AFTER EXPERIENCING A RADICAL SHIFT IN PERSPECTIVE.
Stacy came to purchase this course after dissolving a 17-year marriage and finding herself in a complicated, roller coaster relationship. Learning more about the framework of attachment theory, and the experiential exercises, including an exercise that involves creating a timeline and taking an inventory of your romantic history, were Stacy's favorite aspects of the program.
"I just think if anybody is struggling with a rollercoaster relationship, a push and pull dynamic, something where you find yourself wanting to be in one minute and out the next... this is the most helpful course. And I'm somebody who's been in therapy for four years. This is hands down the most helpful course I've ever done around these issues. It's super powerful, and I would say, just do it!"
-Stacy De La Rosa
THIS COURSE INCLUDES...



Course Curriculum
Welcome and Introduction
Available in days
days after you enroll
Attachment, Complicated Grief and Addiction: Illuminating the Intersections
Available in days
days after you enroll
Transforming Anxiety
Available in days
days after you enroll
"I am astounded by Briana's video series on attachment. This comes from someone (albeit a layman) who has read voraciously on the subject for 7 years now. There is insight and detailed explanations that simply can't be found anywhere except in her videos...She should have a cable show. The level of clarity provided is beyond anything I've seen."
-Jim Lembowski
CHECK OUT EVA'S TRANSITION FROM OVER-INTELLECTUALIZING AND ENDLESS INSIGHT, TO MAKING CONTACT WITH HER FEELINGS, AND EXPERIENCING TRUE SHIFTS IN HER BODY AND HER EMOTIONAL LIFE.
When Eva decided to purchase this course, she was intellectually able to see her unhealthy patterns of relating, but was unable to break out of them. The experiential activities allowed Eva to get in touch with her emotions and to release them. The modified family drawing activity which asks you to identify and express the energetic cords between family members was one of her favorite activities.
"Do not hesitate. Definitely take this course. I am sure you have read the books, I am sure that you have gone to a counselor, like I did, and it's intellectual. This course brings the experiential. It will bring the two things together. It will help you feel your emotions, go to your body, and process through that. Just do it. It's so worth it."
-Eva Alos Melchor
BASICALLY, THIS COURSE BRINGS YOUR MIND AND YOUR BODY INTO COUPLES THERAPY, AND TEACHES EACH PARTY HOW TO COMMUNICATE IN EACH OTHER'S LANGUAGE. AND IT ALL STARTS WITH KNOWING WHERE YOU ARE ON YOUR ROMANTIC JOURNEY...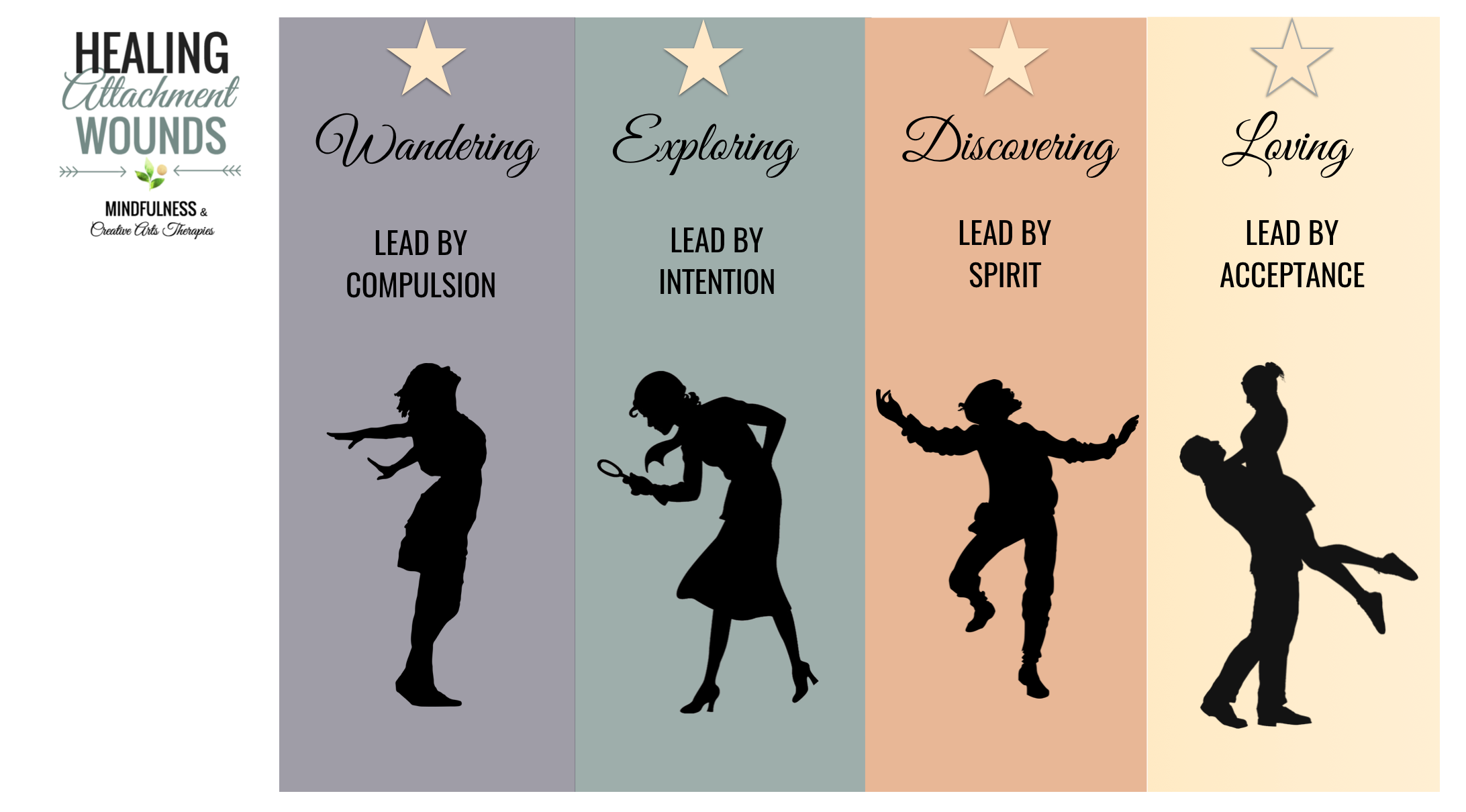 WANDERING
In the wandering phase, you are typically led by compulsion. There is not much reflection on HOW you feel, only THAT you feel and you want to act on your impulses. You tend not to have a clear picture in your head of what a healthy relationship looks like, and so you tend to have the attitude, "I'll know it when I see it."
You need to believe you are justified in this and tend to cling to fantasies about what the relationship or your partner could be, versus what it actually is.
You struggle with listening to the little voice inside that keeps telling you its unhealthy, but you are not able or unwilling to take action to change your circumstances.

Growth in this phase is typically painful. It usually involves more than one hard lesson learned after the other, before we are willing to step into the phase of the explorer. But some people will remain in this phase their whole lives.

EXPLORING
In the exploring phase, you may be feeling raw and a bit wounded from wandering. You are starting to explore and question your feelings, rather than simply acting on them, because you are fearful of getting hurt again. You are now much more intentional with how you respond to your feelings.

You feel an urgent need for answers and/or solutions. You may start to read self help books or seek out counseling and therapy. This provides some relief, but not as much as you want.

You continue to struggle with an underlying sense of yearning and desperation. The feelings just won't go away, even though you may have gained some insight into them. And continue to actively seek tools and resources.

Growth in this phase revolves around expanding consciousness and building a vocabulary for feeling states and coping skills. Realizing that quick fixes are not the solution.

DISCOVERING
In the discovery phase, much of the knowledge and research you have done starts to synthesize. You manage to create some spaciousness around your feelings and the yearnings are not so poignant anymore; they are now understood in their proper context. You also are more willing to sit with uncomfortable feelings.

You want to connect with your own body, and delve into a deeper sense of spirituality. You have explored the hard sciences, and this offers some solace, but now you are searching for a deeper sense of meaning for what you've experienced.

In this phase, old stuff that you thought you'd processed may resurface, and you may struggle with feelings of failure or thinking you've regressed or relapsed.

Growth in this phase revolves around the recognition that old stuff comes up because you are now strong enough to process it with a new level of sophistication, one that fosters in spiritual maturity you seek, in addition to the expansion of consciousness.

LOVING
In the loving phase, you have come to a place of understanding and forgiveness towards yourself, and towards previous partners. There is a sense of resilience that makes you feel fully sovereign in your mental, emotional, and spiritual body.
A this time, you may want and need to reconnect with people, and possibly a new partner or current partner, on a more authentic and intimate level. Your openness to give and receive love has expanded with increasing self love and acceptance. You feel like It's time to take off the training wheels and try again.

There may be lingering doubts or fears that this new level of connection could trigger old patterns of relating; however these fears are not debilitating. You feel capable of managing them well enough to move forward.

Growth in this phase revolves around implementing the skills you have learned; including prioritizing self care, maintaining a spiritual practice, creating genuine and authentic space for a respectful and healthy partner in your life, letting go of judgment, and assuming the authority you have to be a co-creator in your relationships.
ARE YOU READY TO STEP INTO THE LOVING PHASE?
CHECKOUT HOW KETURAH LEARNED TO EXPRESS HERSELF CREATIVELY, AND MAKE CONTACT WITH FEELINGS THAT LOGIC AND RATIONAL INSIGHT COULDN'T TOUCH.
When Keturah decided to purchase this program, she was struggling with self-doubt, and beating herself up because not amount of logic or rational insight could change her feelings. Through this course, she gained a better understanding and empathy for herself, and felt artistically inspired; "I am finally beginning to feel what I need to feel." The guided meditations and arts-based activities were Keturah's favorite aspect of the program, because it allowed her to externalize her feelings and work with them in tangible ways.
"This course is not about getting your ex back, it is all about getting yourself back. This is an investment in something important, YOU. You could spend a lot more money on books and other programs (like I've done) and find your wheels spinning. If you do take the course, make the most of it, take your time and do every step and don't hold back when it comes to expressing your feelings creatively, you might surprise yourself."
-Keturah Jordan
Hi, my name is Briana, and I like burritos. Actually, burritos + a good movie = heaven, in my book. I also love romance novels and campy science fiction shows (anyone else a die-hard Supernatural fan?). I also love being my own boss. Doing what I want to do, when I want to do it. And treating work like play.
My passion for working with attachment wounds and personal development stems from a rocky childhood. As a child of divorce, I bounced back and forth between my parents, across state lines.We lived below the poverty line for much of my young life. In my parents, I had an example of hard work but constant struggle.
I became a high achiever to compensate. It served me well professionally, until my struggles with relationships in adulthood tore down everything I had accomplished.In adulthood, I experienced roller coaster relationships, and ultimately wound up a divorced, single mom.
Then, after losing my job due to budget cuts, within a six-month time frame, one after another, both my parents and my brother were diagnosed with serious, chronic illnesses.And the new partner I had fallen madly in love with– the one all the raw parts of myself wanted so desperately to please and keep – couldn't prioritize me. When he left, my heart broke anew. I felt my soul was split wide open.
As I came face-to-face with my greatest fears, I knew I had to find the grace on the other side, or collapse into a victimized identity.I decided that meant stepping into my own authority, on a spiritual level. And this gave me the motivation to radically change the way I was living, loving, working, and perceiving the world.
I dove straight down into my demons, while pursuing certification in Reiki (energy healing), building a private practice, and doing research for a book about attachment and grief. Ultimately, I found several other contributors willing to share their stories of grief, and we got it published!
Writing the book emboldened me to shed my shame, and talk about these things in a way I had never thought I would feel safe doing.This led to creating the curriculum for my online courses in personal development, and building an online community for support. Much to my delight, both caught fire, and I have never looked back!
CHECKOUT AMANDA'S JOURNEY TO DECODING THE PUSH-PULL DYNAMIC IN HER 9-YEAR MARRIAGE, AND DISCOVERING FEELINGS SHE NEVER KNEW SHE HAD.
Amanda was drawn to purchase Healing Attachment Wounds after hitting a rough patch in her 9-year marriage. She felt learning about attachment styles and why she was feeling the way she was feeling, helped her to be able to step back and observe her own behavior, rather than acting in the moment. It also helped her to see the root of her husband's behavior, and the push-pull dynamic in their relationship. Her favorite activities included the arts-based experientials, which opened up "new things" for her, and helped her release feelings she didn't realize were there. Her advice for anyone wanting to take the course, is to "Take it...it is definitely worth the investment."
AND THERE IS ABSOLUTELY NO RISK INVOLVED, WITH A 14 DAY MONEY-BACK GUARANTEE!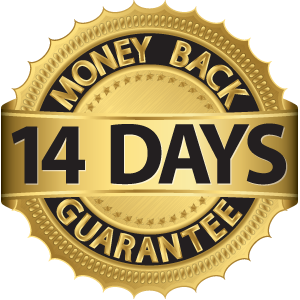 When you purchase Healing Attachment Wounds, you also gain access to a special 60% OFF bonus offer on one of my most popular courses, which isn't available anywhere else...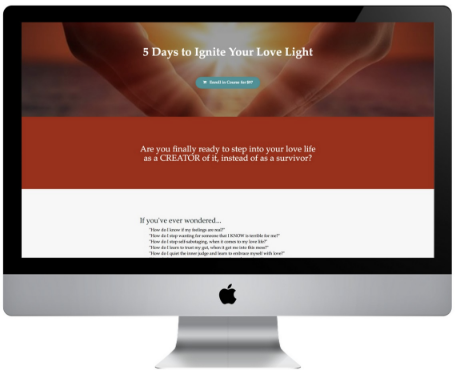 5 DAYS TO IGNITE YOUR LOVE LIGHT
If you've ever wondered...
"How do I know if my feelings are real?"

"How do I stop wanting for someone that I KNOW is terrible for me?"

"How do I stop self-sabotaging, when it comes to my love life?"

"How do I learn to trust my gut, when it got me into this mess?"

"How do I quiet the inner judge and learn to embrace myself with love?"

"How do I stop trying to save my partners from themselves?"

"How do I make myself more comfortable with emotional intimacy?"
This is the perfect bonus for you!
"I loved this challenge. It really helped me map out my internal state; identifying a little more of what's really going on in that dark cloud in my mind. The exercises were all great."
-Carl H.
THIS COURSE INCLUDES...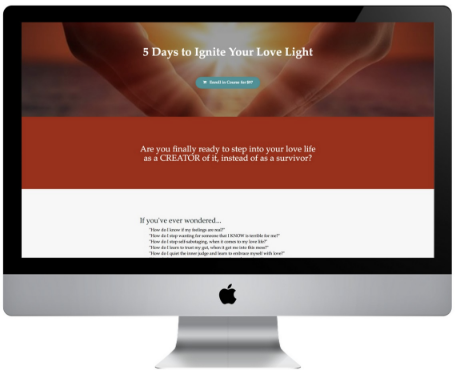 LIFETIME ACCESS TO 5 MODULES INCLUDING 3 HOURS OF DIDACTIC LECTURES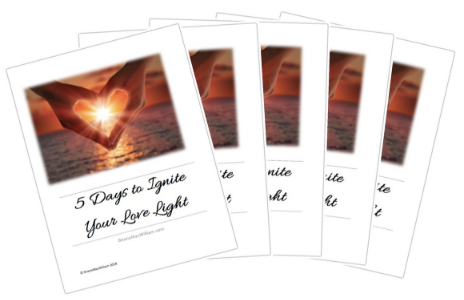 5 DOWNLOADABLE WORKSHEETS AND AUDIO MEDITATIONS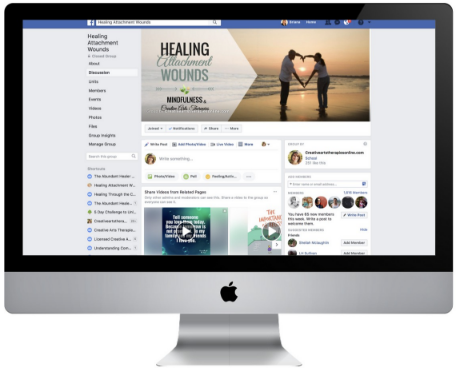 SUPPORT & FEEDBACK IN THE PRIVATE FACEBOOK GROUP
"I LOVED this 5 day challenge! My favorite exercise was the one following the meditation about fear. I never would have imagined what my mind could create about such feeling. Again, going so deep into ourselves, creates these beautiful images. It made me realize that we've got it all within ourselves already!"
-Anna. C.
YOU WILL LEARN...
*Day1 : How to take the fear out of your desire, and realize it is not your "need" that is getting in the way, but rather your beliefs about how to get them met.
*Day 2: How to identify two important types of limiting beliefs that are holding you back.
*Day 3: How to clear your limiting beliefs and replace them with new ones, so you can open yourself up to the multitude of possibility that exists all around you.
*Day 3: How to use mindfulness and creativity to practice being in a loving vibration and activate the law of attraction.
*Day 4: How to show up for an ascended love partner; not a soul mate or a twin flame, but a true ascended love partner.
*Day 5: You will also be taken on a guided shamanic journey to recover and restore your heart chakra.
"I thoroughly enjoyed the lectures and the assignments. My favorite exercise was the meditation about fear and shining the light on what is hidden. It resonated deep within me. My aha moment came through examining my limiting beliefs. I have been able to process, understand, and forgive myself for my part of some of the issues my late husband and I had. This has been restorative for me. I absolutely enjoyed your delivery, your humor, and your ability to help me delve deep into my own process."
-Laurie G.
AND THERE IS ABSOLUTELY NO RISK INVOLVED, WITH A 14 DAY MONEY-BACK GUARANTEE!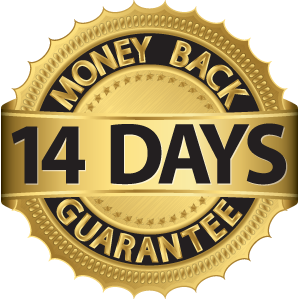 Frequently Asked Questions
When does the course start and finish?
The course starts now and never ends! It is a completely self-paced online course - you decide when you start and when you finish.
How long do I have access to the course?
How does lifetime access sound? After enrolling, you have unlimited access to this course for as long as you like - across any and all devices you own.
What if I am unhappy with the course?
We would never want you to be unhappy! If you are unsatisfied with your purchase, contact us in the first 14 days and we will give you a full refund. If, however, you have received a continuing education certificate, no refund will be awarded.