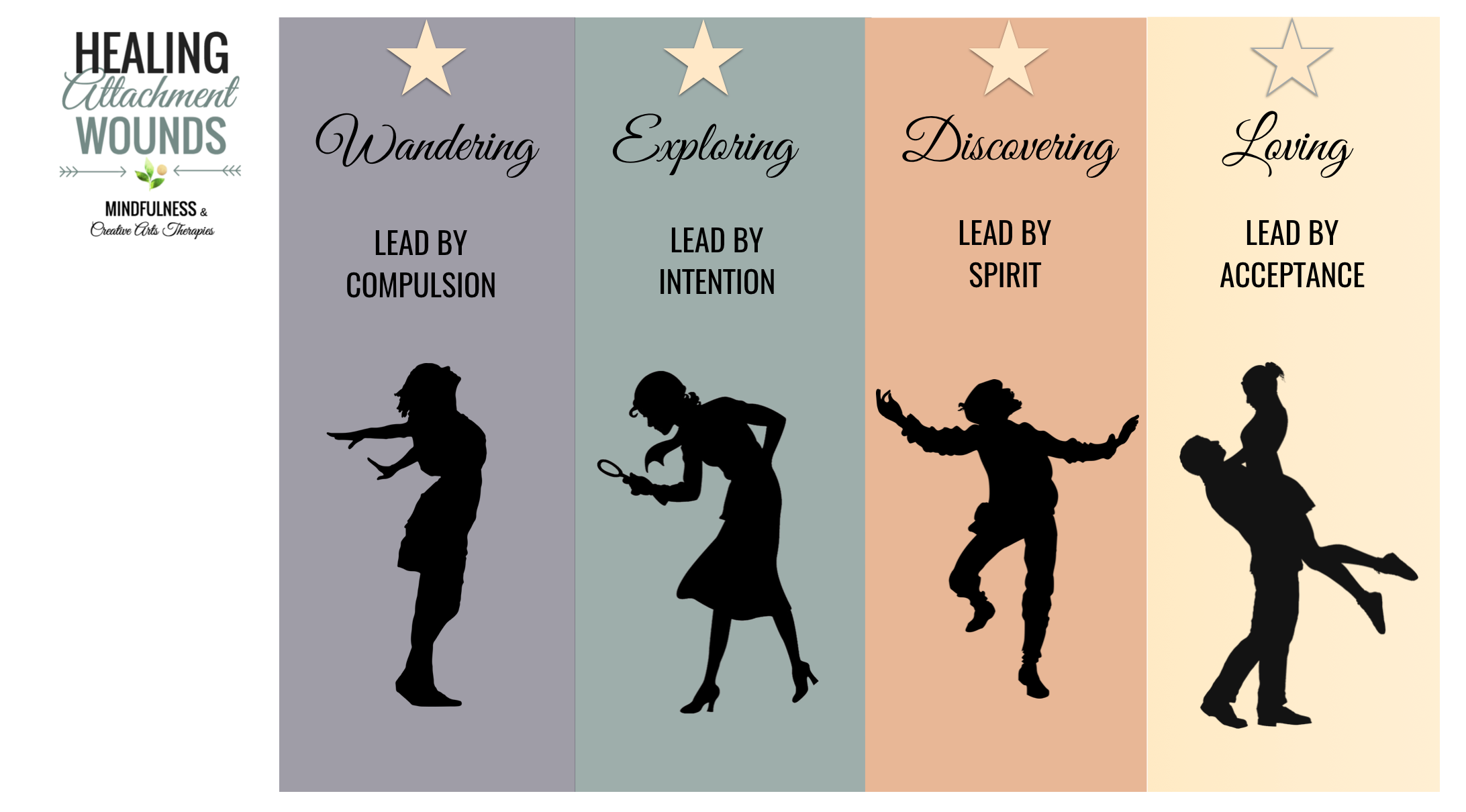 WANDERING
In the wandering phase, you are typically led by compulsion. There is not much reflection on HOW you feel, only THAT you feel and you want to act on your impulses. You tend not to have a clear picture in your head of what a healthy relationship looks like, and so you tend to have the attitude, "I'll know it when I see it."
You need to believe you are justified in this and tend to cling to fantasies about what the relationship or your partner could be, versus what it actually is.
You struggle with listening to the little voice inside that keeps telling you its unhealthy, but you are not able or unwilling to take action to change your circumstances.

Growth in this phase is typically painful. It usually involves more than one hard lesson learned after the other, before we are willing to step into the phase of the explorer. But some people will remain in this phase their whole lives.

EXPLORING
In the exploring phase, you may be feeling raw and a bit wounded from wandering. You are starting to explore and question your feelings, rather than simply acting on them, because you are fearful of getting hurt again. You are now much more intentional with how you respond to your feelings.

You feel an urgent need for answers and/or solutions. You may start to read self help books or seek out counseling and therapy. This provides some relief, but not as much as you want.

You continue to struggle with an underlying sense of yearning and desperation. The feelings just won't go away, even though you may have gained some insight into them. And continue to actively seek tools and resources.

Growth in this phase revolves around expanding consciousness and building a vocabulary for feeling states and coping skills. Realizing that quick fixes are not the solution.

DISCOVERING
In the discovery phase, much of the knowledge and research you have done starts to synthesize. You manage to create some spaciousness around your feelings and the yearnings are not so poignant anymore; they are now understood in their proper context. You also are more willing to sit with uncomfortable feelings.

You want to connect with your own body, and delve into a deeper sense of spirituality. You have explored the hard sciences, and this offers some solace, but now you are searching for a deeper sense of meaning for what you've experienced.

In this phase, old stuff that you thought you'd processed may resurface, and you may struggle with feelings of failure or thinking you've regressed or relapsed.

Growth in this phase revolves around the recognition that old stuff comes up because you are now strong enough to process it with a new level of sophistication, one that fosters in spiritual maturity you seek, in addition to the expansion of consciousness.

LOVING
In the loving phase, you have come to a place of understanding and forgiveness towards yourself, and towards previous partners. There is a sense of resilience that makes you feel fully sovereign in your mental, emotional, and spiritual body.
A this time, you may want and need to reconnect with people, and possibly a new partner or current partner, on a more authentic and intimate level. Your openness to give and receive love has expanded with increasing self love and acceptance. You feel like It's time to take off the training wheels and try again.

There may be lingering doubts or fears that this new level of connection could trigger old patterns of relating; however these fears are not debilitating. You feel capable of managing them well enough to move forward.

Growth in this phase revolves around implementing the skills you have learned; including prioritizing self care, maintaining a spiritual practice, creating genuine and authentic space for a respectful and healthy partner in your life, letting go of judgment, and assuming the authority you have to be a co-creator in your relationships.