This self study course is worth 1.5 continuing education contact hour for LCATs in New York state.
DESCRIPTION
Workshop participants will be asked to read Peggy McIntosh's article, Unpacking the Invisible Knapsack and Robin D'Angelo's seminal article on White Fragility as preparation for the workshop. Discussion of the concepts of white privilege and fragility will be facilitated and explored critically. There will also be experiential work done to explore how these concepts operate and perform within workshop participants.
LEARNING OBJECTIVES
1) Participants will be able to define and identify white privilege and fragility; what it is, what it means.
2) Participants will begin to understand the impact these concepts have on their lived experience as a therapists and, if applicable, the institutions they work within.
3) Participants will be challenged to think critically about ways to break through their own fragility and leverage their privilege in order to foster justice and equality in their work.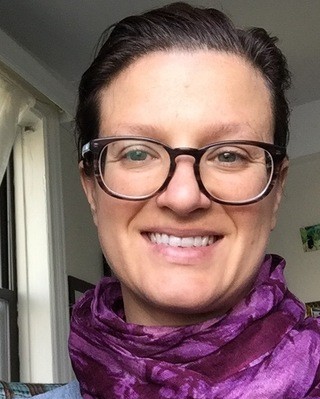 Cara is a Board Certified Dance Movement Therapist and LCAT in NYC. She completed post-graduate training in the practice of Authentic Movement and Group Psychotherapy. She has been practicing in NYC for the duration of her career, working in psychiatric hospitals, educational settings and non-profits. Presently, she maintains a private practice in Chelsea, NYC. In addition, she is adjunct faculty at the Pratt Institute Graduate Creative Arts Therapy Program and SUNY Empire State College in the Human Services undergraduate studies program. Her current interests, writing and otherwise focus in on examining unconscious bias and how white privilege and fragility performs within the realm of psychotherapeutic practice.

A reminder about self-study and continuing education:
For LCATs in New York State, a self-study course can only equal 1/3 of the required contact hours for your license renewal. So, if your license renews in three years, you will require 36 continuing education contact hours, thus a maximum of 12 of those hours can be self-study. The rest of your contact hours must be live events. This includes online webinars, which CreativeArtsTherapiesOnline.com will be offering on a monthly basis, starting in February of 2017. All enrolled students will be updated on new live and self-study course launches. So keep an eye out for our newsletter!
If you have any problems or technical difficulties, please contact Briana MacWilliam at support@CreativeArtsTherapiesOnline.com.
CreativeArtsTherapiesOnline.com is recognized by the New York State Education Department's State Board for Mental Health Practitioners as an approved provider of continuing education for Licensed Creative Arts Therapists. (#CAT-0014.)