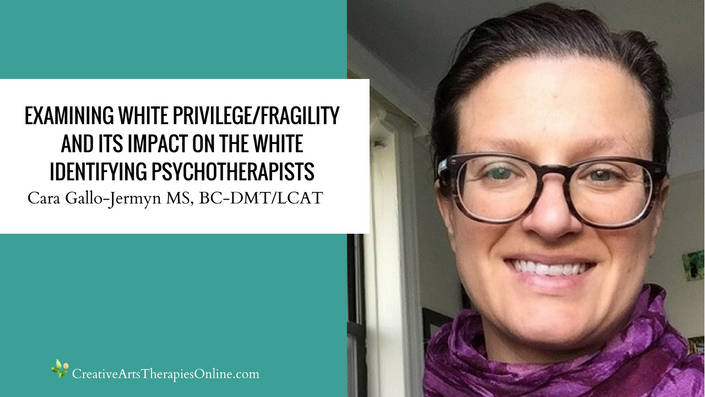 (Self Study, 1.5 CEs) Examining White Privilege/Fragility and Its Impact on the White Identifying Psychotherapists
Cara Gallo-Jermyn MS, BC-DMT/LCAT


This self study course is worth 1.5 continuing education contact hour for LCATs in New York state.
DESCRIPTION
Workshop participants will be asked to read Peggy McIntosh's article, Unpacking the Invisible Knapsack and Robin D'Angelo's seminal article on White Fragility as preparation for the workshop. Discussion of the concepts of white privilege and fragility will be facilitated and explored critically. There will also be experiential work done to explore how these concepts operate and perform within workshop participants.
LEARNING OBJECTIVES
1) Participants will be able to define and identify white privilege and fragility; what it is, what it means.
2) Participants will begin to understand the impact these concepts have on their lived experience as a therapists and, if applicable, the institutions they work within.
3) Participants will be challenged to think critically about ways to break through their own fragility and leverage their privilege in order to foster justice and equality in their work.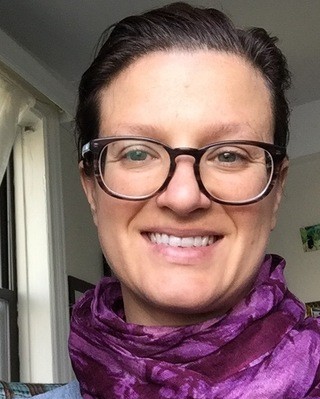 Cara is a Board Certified Dance Movement Therapist and LCAT in NYC. She completed post-graduate training in the practice of Authentic Movement and Group Psychotherapy. She has been practicing in NYC for the duration of her career, working in psychiatric hospitals, educational settings and non-profits. Presently, she maintains a private practice in Chelsea, NYC. In addition, she is adjunct faculty at the Pratt Institute Graduate Creative Arts Therapy Program and SUNY Empire State College in the Human Services undergraduate studies program. Her current interests, writing and otherwise focus in on examining unconscious bias and how white privilege and fragility performs within the realm of psychotherapeutic practice.

A reminder about self-study and continuing education:
For LCATs in New York State, a self-study course can only equal 1/3 of the required contact hours for your license renewal. So, if your license renews in three years, you will require 36 continuing education contact hours, thus a maximum of 12 of those hours can be self-study. The rest of your contact hours must be live events. This includes online webinars, which CreativeArtsTherapiesOnline.com will be offering on a monthly basis, starting in February of 2017. All enrolled students will be updated on new live and self-study course launches. So keep an eye out for our newsletter!
If you have any problems or technical difficulties, please contact Briana MacWilliam at support@CreativeArtsTherapiesOnline.com.
Briana MacWilliam, Inc. is recognized by the New York State Education Department's State Board for Mental Health Practitioners as an approved provider of continuing education for licensed creative arts therapists #CAT-0014.
Course Curriculum
Presentation Lecture
Available in days
days after you enroll
Course Materials
Available in days
days after you enroll
Your Instructor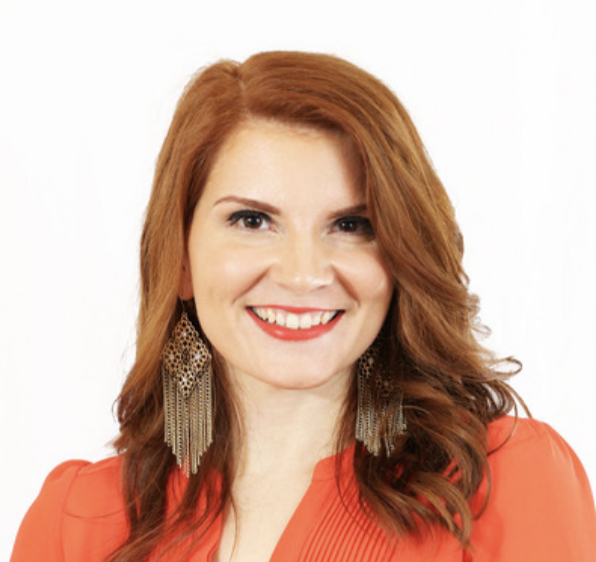 Briana MacWilliam has over 15 years of clinical experience as a creative arts therapist, and is the Founder and Director of CreativeArtsTherapiesOnline.com. She has held two directorial positions in community-based and day-treatment settings, and was a research outcomes coordinator for four years, at the Amen Clinics, Inc.—a brain research and diagnostic facility. She has also edited and co-authored two books on the subjects of attachment and complicated grief, and working with LGBTQ populations. Currently, she offers psychoeducation in self help and personal development through BrianaMacWilliam.com, and continuing education for practitioners through CreativeArtsTherapiesOnline.com. She is also a thesis advisor for Pratt Institute's Creative Arts Therapies Department, and maintains a small private practice.
Frequently Asked Questions
How do I attend a live event online?
Each month we will send out reminders and notifications by email, for the upcoming live presentations. If you would like to attend you will need to purchase the individual course that will give you access to the evaluation and learning assessment, which will trigger your certificate. After your purchase, you will be given a special link that allows you to register for the live event itself. A live event online counts the same as an in-person event (according to the New York State Office of Professions), because the presenters are available to answer questions in real time. If you belong to our membership program, on a monthly basis, you will receive a direct link that allows you to join the live presentations for free. So keep an eye on your email!
How will I receive the certificate?
Certificates are automatically generated after you have taken an online assessment and course evaluation, and sent to the email you used to enroll in the program.
Do you keep track of my hours?
Yes. Once you enroll in the school (whether it is through our membership program or for purchasing an individual course) a personal dashboard is created for you through "myTeachable." With your username and login, you can always come back to your dashboard, which keeps track of all your courses and contact hours.
How does the membership program work?
After you sign up for a subscription, you will receive unlimited access to a library of self-studies, as well as free registration to our monthly, live event continuing education presentations. Each month, the recordings of the live presentations are added to the library as self-studies. So, the library is always growing with new content, and you never miss a presentation.
What if I have more questions?
Briana MacWilliam, Inc. is recognized by the New York State Education Department's State Board for Mental Health Practitioners as an approved provider of continuing education for licensed creative arts therapists #CAT-0014.