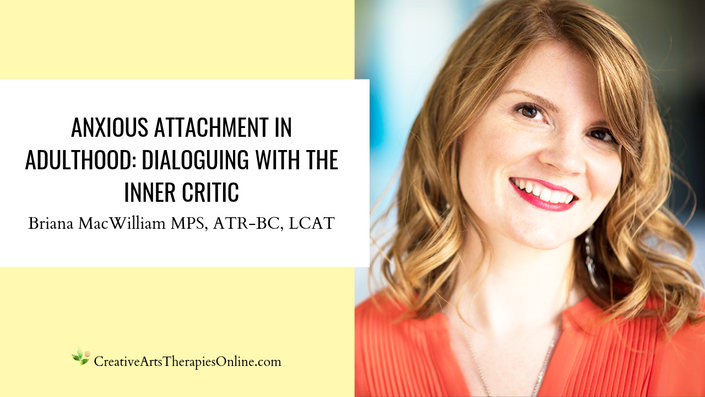 (Live Event, 1.0 CEs) Anxious Attachment in Adulthood: Dialoguing with the Inner Critic
A Creative Arts Intervention Using The MAC Method.
JUNE 4TH, 2020 @ 7:00PM EST

This course is worth 3.0 continuing education contact hours for LCATs in New York state.
COURSE DESCRIPTION
For the past 4 years I have been driven by one thing: creating an online platform to help individuals struggling with insecure attachment go from self-doubting to self-sovereign, so they can experience the soul-shaking passionate partnerships they want, without talking around in circles about their feelings for hours on end, with no result.
In that time, I have gathered more than 8,000 people to my private Facebook group, more than 15,000 subscribers to my YouTube channel, and 25,000 subscribers to my email list.
To this audience, I have offered online courses in self help and personal development, utilizing The MacWilliam Method™. Overall, I have made 4,000 course sales, and and in all that time, while I have been educating them, they have been educating me!
The result of this co-creative process has been a refining of The MacWilliam Method™, so that it can evolve into a standardized treatment protocol aimed at affecting increased "felt security" for individuals struggling with insecure attachment styles, whether they are partnered, or not.
And clients that have worked with me, or participated in my online courses on attachment, are seeing results.
"I am astounded by Briana's video series on attachment. This comes from someone (albeit a layman) who has read voraciously on the subject for 7 years, now. There is insight and detailed explanations that simply can't be found anywhere except in her videos…She should have a cable show. The level of clarity provided is beyond anything I've seen."
-Jim Lewandowski
"I have spent a lot of time chasing after emotionally unavailable partners, but after this course, I now see what power I have to shift the way I am showing up in love. Plus, the creative exercises are fun, and the lectures are easy to listen to. Highly recommend this course."
— Katie Melrose
"My biggest struggle has been discerning my own intuition from a knee-jerk response to triggering statements and behaviors from emotionally unavailable partners. I found myself questioning if my feelings were even real, or if I was going crazy. The guided meditations and arts-based activities really got me back into my body and grounded me in a way that nothing else has, not even years of therapy and self help. Now, I feel a lot more in touch with my intuition and can tell when my gut is giving me an "it's okay" signal, or a "run as fast as you can" signal! I highly recommend this course."
-Michelle Giuseppe
This method utilizes a psycho-spiritual approach to applying creative arts interventions, through the framework of attachment theory. And while the method is informed by evidence-based practices in attachment and trauma research, it stands on its own as a new model rooted in creative arts interventions as the primary modus operandi. It is composed of three principal tools to address mind, body and spirit: 1) Cognitive Reframing, 2) Body-Activation, and 3) Arts-Based Experientials.
This presentation will offer an introduction to how anxious attachment manifests in adulthood, and invite participants to practice an experiential intervention for working with "the inner critic," using The MacWilliam Method™.

In this live presentation, we will be utilizing group process through breakout rooms on zoom, and participants will have free access to the replays.
LEARNING OBJECTIVES

Participants will be able to identify at least three characteristics of anxious attachment, as it manifests in adult relationships.
Participants will be able to name the three essential steps of The MacWilliam Method

™.

Participants will be able to name and describe one effective creative arts intervention for working with adults that have anxious attachment.
Your Instructor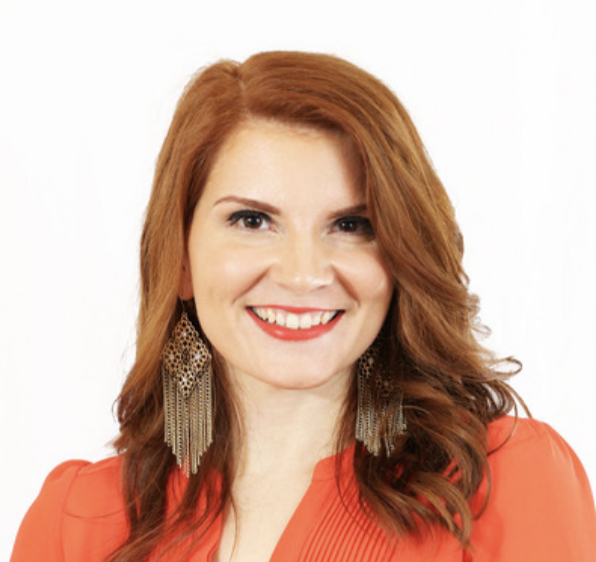 Briana MacWilliam has over 14 years of clinical experience as a creative arts therapist, and is the Founder and Director of CreativeArtsTherapiesOnline.com. She has held two directorial positions in community-based and day-treatment settings, and was a research outcomes coordinator for four years, at the Amen Clinics, Inc.—a brain research and diagnostic facility. She edited and co-authored two books on the subjects of attachment and complicated grief, and working with LGBTQ populations. She is also the Director for Continuing Education for Pratt Institute's Creative Arts Therapies Department.
Course Curriculum
Complete Your Registration for the Live Event!
Available in days
days after you enroll
Course Materials
Available in days
days after you enroll
Frequently Asked Questions
How do I attend a live event online?
Each month we will send out reminders and notifications by email, for the upcoming live presentations. If you would like to attend you will need to purchase the individual course that will give you access to the evaluation and learning assessment, which will trigger your certificate. After your purchase, you will be given a special link that allows you to register for the live event itself. A live event online counts the same as an in-person event (according to the New York State Office of Professions), because the presenters are available to answer questions in real time. If you belong to our membership program, on a monthly basis, you will receive a direct link that allows you to join the live presentations for free. So keep an eye on your email!
How will I receive the certificate?
Certificates are automatically generated when you complete a webform, after you have taken an online assessment and course evaluation. It will be sent to the email you used to enroll in the program.
Do you keep track of my hours?
Yes. Once you enroll in the school (whether it is through our membership program or for purchasing an individual course) a personal dashboard is created for you through "myTeachable." With your username and login, you can always come back to your dashboard, which keeps track of all your courses and contact hours.
How does the membership program work?
After you sign up for a subscription, you will receive unlimited access to a library of self-studies, as well as free registration to our monthly, live event continuing education presentations. Each month, the recordings of the live presentations are added to the library as self-studies. So, the library is always growing with new content, and you never miss a presentation.
What if I have more questions?
CreativeArtsTherapiesOnline.com is recognized by the New York State Education Department's State Board for Mental Health Practitioners as an approved provider of continuing education for Licensed Creative Arts Therapists. (#CAT-0014.)